My latest documentary film project The Elders is down to 5.5 more days (as of this writing) and it's going to be close. We're at 55% right now, having raised just over $6k. Really close. There have been some big developments over the last week that give me faith in this as a new fundraising model. But it's also given me pause for thought: How often can you tax your social network? My story, and the project, were featured on a couple of blogs, namely DVINFO and Planet5D:
Earlier in the week, I had learned that my project was being featured on kickstarter.com's home page, which blew me away considering the volume of amazing projects that are submitted on a daily basis. I have seen multiple pledges come from people who have found the project there. The generosity of strangers is truly something to behold.
What made the front page even cooler, is that during the three days or so my page was near the top, kickstarter was getting crazy press about a project called *diaspora that had raised $175k in under two weeks. What? Wow, I'm still hopeful some karma comes my way from association.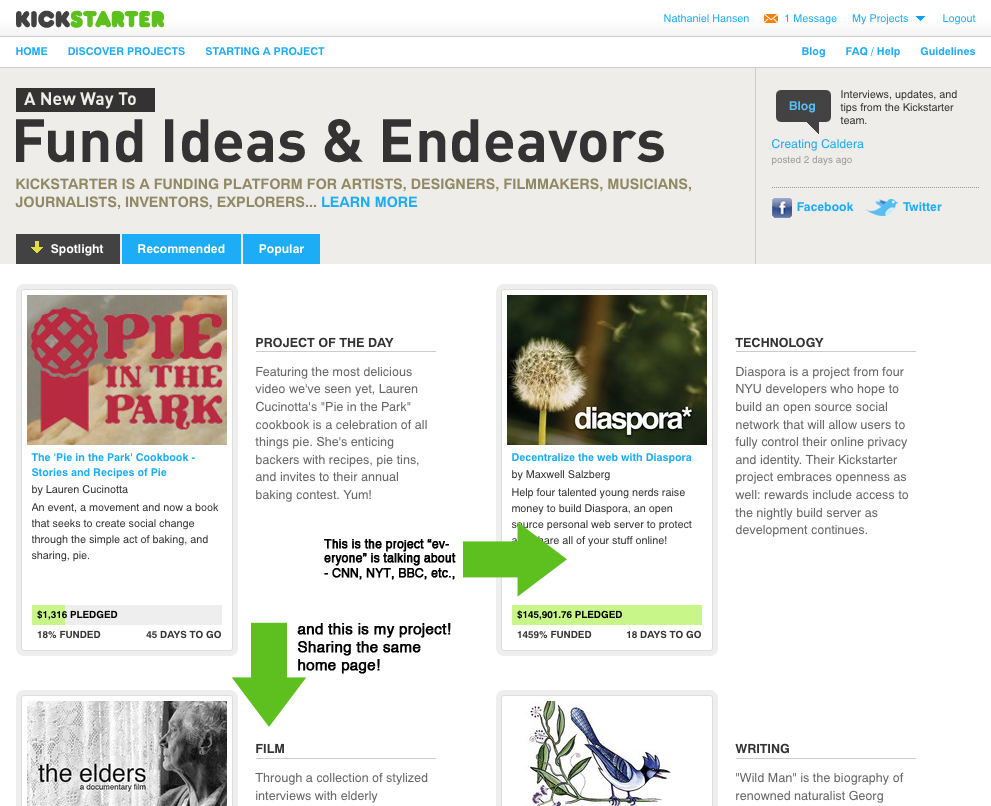 A lot of people have asked me what the process has been like, and the only thing I can think to say is that it's been totally humbling. To watch donations come in from friends, family, friends of friends, and total strangers is overwhelming. It's a fine line, I think, pestering people for support, but I'm confident in the product I can create so their investment in me isn't a loss. It comes down to being able to deliver, should this venture prove successful, and I'm very confident I'll be able to do just that.
I still have 5.5 days to go, but I'd be lying if I said I wasn't nervous. Check out the pitch page here, if you haven't already. More to come…