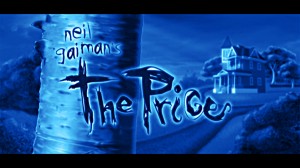 Over the last 2.5 years, I've been working closely with my good friend Christopher Salmon to try and find a way to bring an animated version of Neil Gaiman's short story "The Price" to life. Deals came and went, and we muscled through the ups and downs – him more-so than me – as this project is his baby. Mostly, we struggled to find the right fit for this project in terms of funding (relatively low budget, and short length) and where it could play out as a commercial entity beyond a festival run.
When we discovered kickstarter last year, I decided to dip my toe in the crowdfunding waters with a project of my own, The Elders, and have since assisted on a variety of other successfully funded and produced projects. It was kind of a revelatory experience, seeing what the future of truly independent fundraising was all about. When Christopher asked if I would co-produce this film project with him, I jumped at the chance and I knew kickstarter would be the vehicle to bring this project in.
Well fast forward to today, and we're 11 days (19 days to go!) in to our kickstarter project for The Price – and we've had a remarkable run so far. For starters, this project represents the largest budget ever on the popular website, although other projects have earned much more. We've had an incredible show of support from nearly 800 fans and counting. Neil Gaiman himself has blogged and tweeted about the project, and the news media have been all over this thing from io9.com – to newsarama, yahoo movies, and everything in between.
I couldn't be more pleased with how things are going. The real trick will be to actually make this a successful run to prove to larger studios that fans CAN fund films, and they will. We'll see a million dollars raised on kickstarter within the next 18 months.
To date, we've raised $56,208 – which means we have to raise almost 4700 a day for the next 20 days to meet our goal. It's possible, and I believe this is going to happen, but wow, does that every sound like a mammoth task. Hopefully in a few weeks I'll look back and smile on this whole experience.
Until then… Spread the word! http://kck.st/bUQsac and http://www.theprice-movie.com